4.2 Main Engine

According to C/E, soot on cylinder cover was greatly reduced compared with when PLUTOcen-F was not applied. Taking a look at the outlet of exhaust gas economizer, which is the last outlet of exhaust gas from main engine, it was noted that soot on each fin was lessened.

Also, consumption of lubricating oil was dramatically reduced.

Comparing the data obtained while PLUTOcen-F was not applied (2, 4, 5, 7 CYL) with those accumulated over one year while PLUTOcen-F was used (I, 3, 6, 8 CYL), we will see the effects of it.

 

◎ Cylinder Liner

As a whole, no scuffing and abnormal abrasion was found on cylinder line, which was found to be in good order.

Except for the top of P-M/E, wear was much less when PLUTOcen-F was used. Even at the top of P-M/E, the maximum wear was only 0.21 mm after 13,673 hours of operation, which was within the normal range, and showed no problem.

 

◎ Piston

The ring was well lubricated, and no stick and scuffing was found. As for the groove condition, the data on cylinders (2, 4, 5, 7) cannot be simply compared with those of cylinders (1, 3, 6, 8) as it became reversed as time progressed. Therefore, the following table shows the data on top ring of cylinders (1, 3, 6, 8) only.

 
Table 2. Wear on M/E piston top ring

 

Now, we compare the side clearance after attaching standard piston ring, and it can be noted that the wear on rings, with the exception of the 1st ring, became thinner than the last measurement, and in fact there was no wear in appearance on cylinders (1, 3, 6, 8) on both sides of the vessel.

The following table shows the result of forced comparison of top rings.

 
Table 3. Side wear on M/E piston top ring

 

◎ Exhaust Gas Turbocharger

Only S-M/E was opened. A thin layer of soft soot was noted on turbine blade, but it was easily cleared when submerged in hot water.

Nozzle ring was also in good condition.

 

4.3 Boiler

Furnace was very clean with only a 0.5 mm thick layer of soot on the outer side of piping which was easily removed by fingers, and with about 10L of light and soft soot accumulated in the soot collector at the smoke outlet.

 

4.4 Exhaust Gas Economizer

Exhaust gas economizer on both sides of the vessel were very clean with only a very thin layer of soot on each fin. Though they had not been washed in water for one year, they still did not need it.

 

4.5 No.3 Generator

As we did not attend the opening, we could not check the condition before cleaning. However, according to what we were told there was no particular problem and, in appearance, the condition was normal.

 

◎ Cylinder Liner

 
Table 4. Wear on No.3 D/E cylinder liner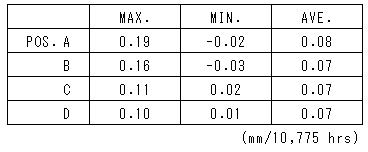 As a whole, wear was hardly noted. However, the lower POS. C and D showed wear as in the case of the upper part. Normally, the lower the part, the thinner the wear becomes. We suspect that the liner was horned during the service in 1996.

 

◎ Piston

This was found to be in good condition with absolutely no wear noted in the first through third grooves. In the forth and fifth grooves there was a slight wear of about 0.1 mm, but this is the same condition noted in No.2 Generator in 1998 and considered to be no problem.

 

5. CHANGE IN CONSUMPTION OF FUEL AND LUBRICATING OIL

 

Though the vessel began applying PLUTOcen-F in January 1998, the first three months of the year are disregarded for the purpose of comparison, and the following shows the consumption for the period of 9 months.