(4) Other facilities
Non-licensed nurseries
There are about 20 non-licensed nursing facilities.
Non-licensed nursing facilities are smaller and have less nursery space than those governed by the national standard. Some are similar to licensed facilities, receiving financial assistance from the City office. Most of them are small in size and provide care for younger children.
List of non-licensed nursing facilities
Tanpopo, Takeuchi-Takujisho kids, Komiya Hoikuen, Children-house Takagami, Nursery-house Nishida, Gu-Choki-Pa, Kids-house Toyota, Mammy's Pocket, Children's land Bulldog House, Sakura Hoikusho, Takujijo Sakuranbo, Kid's academy Obayashien, Child care room PiyoPiyo, Pigeon-land Toyota, Hoikusho Chibikko-Land, Toyota Kidscclub, Mirumiru-en, Kodomo-no-ie
Further information:
Children's Division in the City office (TEL:0565-34-6636)
Support Centers for child care in Toyota
Support Centers deal with issues relating to child care, as well as support and encourage young mothers and organize the reciprocal support service.
・Toyota General Child Care Support Center(T-FACE A bldg. 9F)
・・・TEL:0565-37-7071
Wakamiya-cho, Toyota 1-57-1
Hours:10:00 a.m.〜6:00 p.m.
Holidays:Tuesday, some days at the beginning and end of the year
・Higashiyama Child Care Support Center (within Higashiyama Hoikuen)
・・・TEL:0565-88-5525
・Togari Child Support Center (within Togari Hoikuen)・・・TEL:0565-74-1056
・Tsutsumigaoka Child Support Center(within Tsutsumigaoka Hoikuen)
・・・TEL:0565-52-0207
・Ibo Child Support Center (within Ibo Hoikuen)・・・TEL:0565-43-1291
・Koshido Child Support Center (within Koshido Hoikuen)・・・TEL:0565-45-3106
These centers include play area, information area, a workshop, lounge for interchange, and a multi-purpose hall. It is a place where both children and parents can enjoy playing and learning together.
Family Support Center
The Family Support Center is the reciprocal help membership organization. Members consist of those who want to receive support and those who want to help support others.
Call Toyota Family Support Center at Toyota General Child Care Support Center for an application.
TEL:0565-37-7135
・Examples of reciprocal help
・Temporary child care while parents visit the hospital or attend a ceremonial occasion
・Community activities or school's open house
・Pick up to Hoikuen, etc.
・Chart of the process for reciprocal help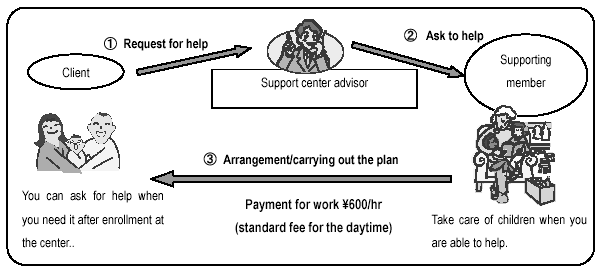 ・Clients・・・ Live or work in Toyota city , and have take care of a child/children under the age of six (An hour lecture is also required.).
・Supporting members・・・ live in Toyota city, like children and can take care of children at their own home, and have an interest in social service. (Four-hour lectures are also required.)
※The support center's advisor is also the coordinator.
◇ About school education in Japan
In China, the core of a child's education is school education. Teachers and schools are evaluated by the percentage of students who advance to higher education or student GPAs and this evaluation influences the treatment of the teachers. So, both teachers and students work and study very hard. In Japan, it seems that teachers and parents cooperate in the children's education. I think this is very good, but sometimes I feel that schools, families and students lack discipline.
School system in Japan and China are different, which confused me at first. When I go to an open house at school, it seems to me that the students have no homework and are always playing.
So many students go to cram school or take lots of lessons after school so that their scholastic ability won't decrease.
I feel that the PTA cooperate well with the school and are involved in the school administration. In China, there is no PTA system and parents entrust everything to the school. Teachers have such a big influence on children. For instance, children will be obedient if parents say, "I'll tell your teacher what you have done.", when they do something wrong at home. In the same way, schools have influence in China, but schools and parents in Japan seem so cooperative. Both systems have good and bad points. I hope there will be more opportunities for exchange among teachers, children and parents at school.
Each educational system varies from country to country. I hope there will also be more opportunities for foreign residents to take part in PTA activities and to more easily exchange ideas about education. Even Japanese feel timid to serve on PTA committees, therefore foreigners who are not confident in Japanese will find it hard to join. If there was a much more friendly and familiar atmosphere to PTA committees, I would like to be involved.
Koka Ching (Chinese)