Sylff
The European Institute of Business Administration
INSEAD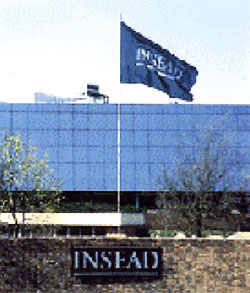 INSEAD
Boulevard de Constance 77305 Fontainebleau Cede France
Telephone: 33-(0)1-6072-4000
Facsimile: 33-(0)1-6074-5500
Year Endowed:
1988
Steering Committee:
Chairperson
Ms. Helen Henderson
Director
Financial Aid and Regional Development
Contact Person
Dr. Michael Jenkins
Regional Director
Japan and Korea
Email
michael.jenkins@insead.edu
SYLFF Website
Name of SYLFF Program:
MBA and Doctoral Program in Business Administration
SYLFF Program:
The program extends financial support to students in master's and doctoral programs in business administration. Research fellowships are also provided to students at the Euro-Asia Center.
Selection Process:
Information about the availability of fellowships is provided to all students at the time of their enrollment. MBA and PhD applicants are required to submit an essay on a given topic. The best candidates are the reviewed by the SYLFF Steering Committee. Fellowship recipients from the Euro-Asia Center are selected from among the research fellows and appointed by the center director. Fellowships for MBA candidates are usually US$3,300. However, amounts vary depending on the funds available and on the number of selected candidates. Fellowships for PhD candidates and Euro-Asia Center research fellows are usually US$15,000.
The European Institute of Business Administration INSEAD
Year Established:
1959
Type of Institution:
Private
Degrees:
MBA, MSc, PhD, also the INSEAD Executive MBA forthcoming (2003).
| | | | |
| --- | --- | --- | --- |
| Student Enrollment: | Men | Women | Totals |
| Graduate/Professional: MBA | 648 | 188 | 836 |
| Executives | N.A. | N.A. | 6,500 |
| PhD | 46 | 20 | 66 |
| Domestic | N.A. | N.A. | 10% |
| International | N.A. | N.A. | 90% |
Academic Calendar:
September to August
NB: There are two ten-month MBA programs each year on both campuses, one starts in January, the other in September. Executive programs at INSEAD take place throughout the year. The PhD and Master of Science programs enroll in September each year.
Language(s) of Instruction:
English
University of Sussex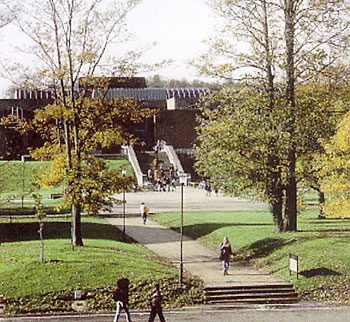 University of Sussex
Sussex House
Falmer, Brighton BN1 9RH United Kingdom
Telephone: +44-1273-606755
Facsimile: +44-1273-678335
Year Endowed:
1988
Steering Committee:
Chairperson
Professor Alasdair Smith
Vice-Chancellor
Contact Person
Mr. John Sander
International Officer
International and Study Abroad Office
Email
johnds@sussex.ac.uk
Name of SYLFF Program:
Program for International Studies
SYLFF Program:
The program comprises three sub-programs:
・Science, Economic and Environmental Policy
・Internationalism
・Gender Roles in Modern Society
Selection Process:
SYLFF fellowships are announced within the University of Sussex. Information is also included in the Postgraduate prospectus. Selection is based on documentary screening including details of academic qualifications, previous work experience, reasons for applying for the particular degree and references. There are no interviews. SYLFF fellowships are limited to master's degree students in specific subjects. Although the fellowships originally only covered university fees, in order to attract the desired number and caliber of students, now both fees and living expenses, usually amounting to US$13,000 for domestic, and US$24,000 for international students, are covered. Eighty-five (85) students have been awarded SYLFF fellowships to date.
University of Sussex
Year Established:
1961
Type of Institution:
Public
Degrees:
Undergraduate and graduate taught and research degrees are offered within Schools and two specialist research centers.
| | | | |
| --- | --- | --- | --- |
| Student Enrollment: | Men | Women | Totals |
| Full-time | N.A. | N.A. | 8,460 |
| Part-time | N.A. | N.A. | 1,203 |
| Undergraduate | N.A. | N.A. | 6,987 |
| Graduate/Professional | N.A. | N.A. | 2,676 |
| Domestic | N.A. | N.A. | 7,382 |
| International | N.A. | N.A. | 2,281 |
Academic Calendar:
October to December; January to March; April to June
Language(s) of Instruction:
English
Schools of Studies:
・Brighton & Sussex Medical School
・Humanities
・Life Sciences
・Science & Technology
・Social Sciences & Cultural Studies
・Sussex Institute
Research Centers:
・Institute of Development Studies
・SPRU - Science & Technology Policy Research