ADVANCED DISTANT LEARNING - ADL
Per Branstad, Kongsberg Maritime Ship Systems AS (KMSS), Norway
Abstract: There is a great push ahead for Advanced Distant Learning - ADL. New development making simulation with use of Internet possible has contributed to make the maritime education and training systems more flexible. Standards such as Shareable Content Objective reference Model - SCORM and High Level Architecture - HLA - have been developed in support for ADL. The immediate benefit of ADL is that it will provide needed maritime education and training where education and training is currently not available. Providing high quality education and training which is tailored for anywhere and anytime, will strengthen maritime training considerably. Learning Management System - LMS - is a general term used within ADL to cover the whole set of management functionality supporting learning processes. A smart LMS is expected to deliver, track, report and administer learning content and student performance. In particular such LMS may route learning content and student performance, e.g, with growing complexity of the material being delivered to students. Present ADL solutions and other emerging commercial e-learning systems may provide only limited capabilities to learn through doing in a distributed environment, due to the reason that there is no effective built-in support of distributed simulation functionality. The combination of learning and training is by far the most effective way to increase skills and competence; thus ADL with sophisticated simulation will be the most effective way to train in the future. ADL combined with Full Mission Simulators - FMS - will make a new and flexible training approach possible.
1. THE ROAD TO BETTER LEARNING
What is Advanced Distant Learning - ADL? By definition ADL is learning and teaching environment where the teacher(s) and student(s) are not in the same physical location. The learning can be synchronous (i.e. real time interaction) or ansynchronous. Training institutions with Full Mission Simulators - FMS - has the possibility to combine ADL and FMS in their training strategy. This enables extensive communication with people and interaction with technology. Combining ADL and FMS increases flexibility and motivation, both for instructors and learners. The same powerful simulation software that powers KMSS FMS is available to run on a learners PC. An automated tutoring system ensures that learners do not deviate from the exercise goal. Instructors can distribute all kind of simulation exercises, from system familiarization to advanced training and studies. The LMS ensures easy access to the students for monitoring, assessing and tracking.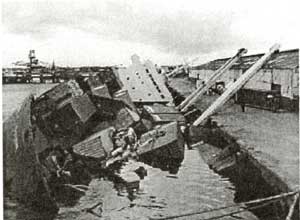 1.1 SIMULATION IN MARITIME EDUCATION
For almost 30 years, KMSS has provided maritime training simulators to educational institutions world-wide. Through this period there has been a continuous improvement in simulator functionality. Simulator training has proven to be a valuable supplement to the traditional classroom based instruction. Through simulation, it is possible to accomplish some important learning objectives.
Examples are:
・improved learning through interactivity
・improved system-level insight
・simulator training as a substitute for on-board practice,
・team training
・user-friendliness
・training adapted to each students pace and knowledge level
・improved student motivation
Based on these points we assume that simulation will be a valuable training method also in the future.
1.2 CHANGING TRAINING REQUIREMENTS
In the recent years, the context for the maritime learning industry has been changed through a set of new requirements. The following are probably the most important. The first issue is the introduction of the ISM code and the revised STCW95 imposes a new challenge for maritime training institutions as well as for ship owners. The keyword is documentation of qualifications. To achieve this documentation, the need for "compliant training" arises, with the ability to assess, test and track the results of thousands of students. Current training solutions do not seem able to handle this need without a major scale-up in the number of teachers and maritime training institutions. Secondly, there is a tendency of a shift in how learning and learning processes are being viewed:
・From seeing learning as the responsibility of the individual to seeing it as a collective process of vital importance to organisations
・From classroom learning and textbooks to extensive communication with other people and interaction with technology
・From a linear/static content organising and progress modularised, dynamical solutions
・From static knowledge to dynamic know-how
・From "mass-produced" teaching to learning solutions adapted to each students pace and knowledge level.
Current simulator solutions have properties to fulfill many of the requirements above, but still lack much when it comes to communication, assessment solutions and availability.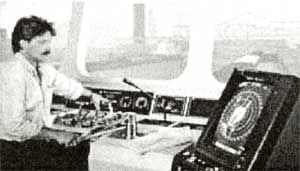 1.3. IMPROVED TRAINING WITH EMERGING TECHNOLOGIES
What can be achieved through the use of emerging technologies?
The information society and the evolution of the Internet certainly brings up a number of exciting possibilities:
・Faster computers makes it possible to run tough software applications; simulators, on affordable hardware
・Internet technology and extreme bandwidth communication channels will enable "digital" collaboration" over large distances
・New visualising technologies will improve simulator realism
・LMS can automate and streamline much of the administrative work connected to educational programmes
・Improved authoring tools can simplify and improve the design of course material and textbooks