Danjulo Ishizaka
Cello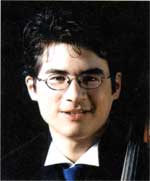 Born to a German mother and a Japanese father, Danjulo Ishizaka received his first cello lessons at the age of four. Mr. Ishizaka studied with Hans Christian Schweiker in Cologne and Boris Pergamenschikow at the Hans Eisler Music School in Berlin.
Mr. Ishizaka is the recipient of the Grand Prize at the Grand Prix Emanuel Feuermann in 2002, which is the first international cello competition held for the first time in Berlin to commemorate the 100th birthday of the legendary cellist Emanuel Feuermann. Prior to this competition, Mr. Ishizaka has won the First-Prizes at the International Gaspar Cassado Cello Competition (Spain) in 1998 and at the renowned ARD Music Competition (Germany) in 2001.
Mr. Ishizaka appears at many music festivals and has performed with notable orchestras and musicians all around the world including the Bavarian Radio Orchestra, the Baltimore Symphony Orchestra, Vienna Symphonic Orchestra, Philharmonie of the Nations, the Ensemble Oriol, the Radio Symphony Orchestra Frankfurt, the NHK Symphony Orchestra, Gyorgy Kurtag, Menahem Pressler, Alban Berg Quartet, and Amadeus Quartet.
A CD recording of works by Mendelssohn, Britten and Frank sonatas will be released in autumn 2004 under Sony Classical.
Instrument used : Stradivarius 1696 "Lord Aylesford" cello
Shunsuke Sato
Violin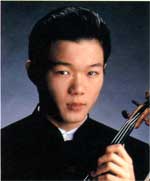 Born in Tokyo, Shunsuke Sato began his violin studies at the age of two at the Suzuki Talent Institute. Mr. Sato went on to study at The Julliard School pre-college program with Dorothy DeLay and Masao Kawasaki. He also studied at the Curtis Institute of Music in Philadelphia for one year, and currently studying with Gerard Poulet at the Conservatoire National de Région in Paris.
At the age of nineteen, Shunsuke Sato has well proven his artistry and virtuosity, having won critical acclaim from prestigious press across three continents - Europe, North America, and Asia. Mr. Sato's approach has been described as ponderous, introspective, and lyrical, while never sparing bravura where repertoire requires.
Mr. Sato, at the age of twelve, became the youngest artist ever to have received professional support from the Young Concert Artists (USA). He has appeared with such orchestras as the St. Petersburg Symphony, the Bavarian Radio Symphony among others, and has collaborated with such notable conductors as Gary Bertini, Myung-Whun Chung, Alexander Dmitrijew, Thierry Fischer, Lawrence Foster, Valery Gerghiev and Yuri Temirkanov to only name a few.
Scheduled this summer is a recording project of the six sonatas for solo violin by Eugène Ysaÿe under Nami Records, Japan.
Instrument used: Stradivarius 1725 "Wilhelmj" violin
Baiba Skride
Violin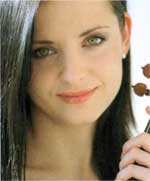 Baiba Skride, the First-Prize winner of the Queen Elisabeth International Competition (Belgium) in 2001, was born into a musical family in-Riga, Latvia, and received her first violin lessons at the age of four. Prior to her success at the Queen Elisabeth Competition, Ms. Skride had already been awarded the First Prizes at several international competitions, such as the International Competition for Violin at Kloster Schontal (Germany) in 1995, the Jeunesse Musicales International Music Competition (Romania) in 1997, and the Lipizer International Violin Competition (Italy) in 2000.
Ms. Skride has been actively performing throughout the world with many orchestras and conductors, including the Orchestre National de Belgique under Lorin Maazel at the closing concert of the competition in Brussels, Radio Symphony Orchestra Frankfurt, Helsinki Philharmonic Orchestra, the St. Louis Symphony Orchestra under Gilbert Varga, Deutsche Sinfonie-Orchester Berlin as part of their "Debüt im Deutschlandradio" series, the Russian National Orchestra under Paavo Berglund, Orchestre National de Belgique under Mikko Franck. Also as a committed chamber musician, she has appeared at numerous festivals including the Delft Chamber Music Festival in summer 2002, and gives trio concerts with her two sisters Linda Skride (viola) and Lauma Skride (piano).
In the summer of 2004, Baiba Skride will give her début at the Salzburg Festival.
Instrument used : Stradivarius 1708 "Huggins" violin
Akiko Suwanai
Violin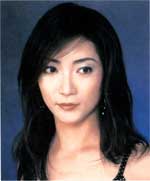 Youngest ever winner of the 1990 International Tchaikovsky Competition, Akiko Suwanai has established an international career, performing regularly in concerts and recitals in the major cities of Europe, the Americas and Asia. Ms. Suwanai has collaborated with such renowned conductors as Lorin Maazel, Sir Neville Marriner, Zubin Mehta, Seiji Ozawa, Mikhael Pletnev, Eliahu Inbal, André Previn, Mstislav Rostropovich, Gennadi Rozhdestvensky and Yevgeny Svetlanov. Highlights of recent seasons include her Berlin Philharmonic debut under Charles Dutoit, performances with Mikko Franck and the Belgium National Orchestra and tours with the Gustav Mahler Jugend Orchester under Pierre Boulez and the Philharmonia Orchestra and Czech Philharmonic with Vladimir Ashkenazy.
Born in Tokyo, Akiko Suwanai studied violin with Toshiya Eto at the Toho Gakuen School of Music. Subsequently, she studied at The Juilliard School with Dorothy DeLay and Cho-Liang Lin while also attending Columbia University. She then went onto study at the Hochschule der Kunste in Berlin and studied with Uwe-Martin Haiberg.
Akiko Suwanai has an exclusive recording contract with Philips Classics since 1996 and her seven releases to date have garnered much critical acclaim. Her most recent CD, a recording of Sibelius and Walton Violin Concertos, was released on Decca to coincide with concerts in Asia with the City of Birmingham Symphony Orchestra under Sakari Oramo in autumn 2002.
Instrument used : Stradivarius 1714 "Dolphin" violin