Essay
LI Yong
1999046, MET, China Prof./Capt. Wuhan University of Technology
The following is a summary of the report concerning one of the most important issues in China's transportation area.
Inland Waterway Transportation Education/Training (IWTET) in China
More than 900 lakes and 50,000 rivers with a total length of 430,000km form a broad inland waterway network in China, among which 5,600 rivers have navigable waterways with a total length of 109,000km. Therefore, inland waterway transport is an important mode of transport, where IWTET becomes one of the fundamentals of development and safety.
Since the navigational environments and characteristics of river ships are different from ones of ocean going ships, IWTET should be defined as a specific system for educating/training specialists such as river ship officers, engineers and pilots. The roles of Chinese IWTET are:
1. Operation of LWTET institutions, founded in the early 1950s.
2. Changing the system from a traditional one which relied only on OJT to a new one that combines OJT and a school training model.
3. Introduction of new knowledge and skills in order to manage the developing traffic involving ships with larger capacities and/or larger power, as well as to accommodate new technology.
4. Centre of education and science research.
As the development of inland waterway transport in China has a large potential capacity, the roles of IWTET are becoming more important.
Mohammad Ashraf ZAFAR
1994058 MSA (Nautical) Pakistan
His Excellency Mr. Yohei Sasakawa,
A long time has passed since the WMU Japanese Sasakawa Fellows Forum, but it is never too late to acknowledge and appreciate the good work and noble gestures of someone, who was the motivating force in holding such a wonderful event.
When I studied at WMU in 1993, I met Mr. Kudo on his visit to the university. I spoke to him about my dream of inviting WMU Sasakawa Fellowship students to Japan, so that they could be introduced to Japanese people, culture, and way of life, and at the same time could say thank-you to their sponsor. It is an unforgettable memory; thanks to the efforts of The Sasakawa Peace Foundation staff and your kind understanding, the dream came true quickly.
So our Batch (1993 - 94) of WMU Japanese Sasakawa Fellowship students was the first to visit Japan in December 1993. Although I had visited Japan a number of times while sailing on board ships between 1970 - 1988, but being a guest as a WMU Japanese Sasakawa Fellow was a new and unique experience.
During that brief stay in Japan, we visited many maritime institutions and shipping related industrial units and enjoyed Japanese hospitality. I distinctly remember making another proposal that after 5 years or so an international seminar should be held so that ex-WMU Japanese Sasakawa fellowship graduates could gather in some central location like Tokyo and discuss various topics relating to maritime activity, particularly shipping.
Thank God, due to your keen interest in maritime affairs and desire to promote goodwill, and due to Ship & Ocean Foundation's sincere efforts, the dream of holding wonderful seminar/forum became a reality in July 2001. The Maritime Community of the world witnessed and acknowledged that some one with vision, wisdom and will, can perform wonders by showing love and respect the humanity. Human values are always higher than religions, races and other worldly considerations. All the WMU Japanese Sasakawa Fellowship graduates and delegates from all over the world gathered in Tokyo in July 2001 to demonstrate the faith and unity of mankind. The presence of IMO, WMU delegates and particularly the WMU Japanese Sasakawa Fellowship students attended the seminar with fervor added grace to the occasion.
I must congratulate the officers and staff of "Friends of WMU, Japan," the Nippon Foundation and SOF, working under your able guidance and control for holding such a magnificent international event, which otherwise would not have been possible. I also want to take this opportunity to wish you good health and long life to keep on giving financial as well as moral support in improving the quality of life of the underprivileged masses, irrespective of color or creed. By the grace of God Almighty you are already blessed and your noble gestures for mankind will be rewarded in heaven too.
Profound Regards,
Sincerely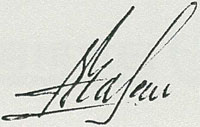 Eisuke KUDO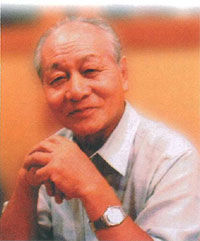 Some readers may remember an alumni magazine "Haru Ichiban" that was published for review of Japanese-funded WMU graduates for a certain period of time succeeding to the creation of "Friends of WMU, Japan" in 1995. "Haru Ichiban" was the name of a yacht belonging to the late Prof. Kensaku Nomoto.
At an earnest request of the then Secretary General of IMO, Prof. Nomoto of Osaka University held a chair at the newly founded WMU for 1983-87. In those earliest days of university history there were no Sasakawa Fellow or Japanese-funded student studying at WMU.
Prof. Nomoto was then the world famous authority of ship's maneuverability. His theoretical research in 1960s into the relation of steering wheels and ship's movements laid foundation for development of ship maneuverability simulators in current use. In 1984 he was conferred the year's Christopher Columbus Award for his contribution to human welfare in the areas of communication and transportation through the said research.
After returning to Japan, Prof. Nomoto became involved with a project to restore traditional Japanese shipbuilding techniques and the designing of a yacht Japan built to participate in the America's Cup Yacht Race. In recent years, he joined in volunteer activities in order to let children enjoy yachting. He met untimely death on July 20, 2002. It was the Day of the Sea, and Prof. Nomoto came to the Shin-Nishinomiya Yacht Harbor to participate in an event commemorating the marine day holiday. Prof. Nomoto jumped into the water to hold his yacht that began drifting and was drowned.
He consistently wished prosperity of WMU. He was loved and respected by a lot of people in the international maritime community. WMU has recently adopted a praiseworthy resolution to establish a doctoral course named after him in recognition of his contribution to the university.
Join us in praying for the repose of his soul that has gone back to the sea --- the place he loved dearly.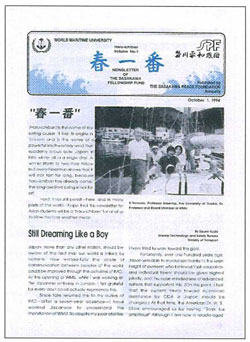 We welcome your contribution!
The Secretariat invites you to contribute either to the Newsletter or Website. Photographs are also welcome. (We prefer to have printed copies sent by post, but for those who wish to send by e-mail, the resolution must be at least 400 dpi.) Please note, however, that due to space limitations some contributions might be reduced in volume, held over to the next issue, or be changed for inclusion in the website at the Secretariat's discretion.
The renewal of the "Friends of WMU, Japan" Website will be completed by early March, and will include a message board for free use by WMU Sasakawa Fellows. Please use it for exchanging messages, inquiries, discussions or opinions with other members.
Editors' Postscript
It is a pleasure to hear from the Philippines that the first national network of the friends of WMU was established and it will no doubt foster closer communication among Sasakawa Fellows in the Philippines. I hope that the movement is extended to others and that another network will be established soon, not only at the national level but also at a regional level.
I am now involved in the decision-making process in Japan with regard to maritime safety and marine environmental protection and so am attending some meetings in London. At my first IMO meeting, it was impressive to find so many WMU alumni attending the meeting and taking a lead.
I believe that other alumni are also playing an active role in various sectors; close communication among them is surely important. This newsletter as well as regional networks and our efforts will help strengthen communications in the near future.
Ko KOISO
Chief Researcher, Regulation Div.
The Shipbuilding Research Association of Japan
 This newsletter is published under a grant from The Nippon Foundation to promote communicarion among the Sasakawa Fellows of WMU (World Maritime University) and edited by Ship & Ocean Foundation in cooperation with Mr. Ko Koiso, Prof. Toshio Hikima, Ms. Masako B. Otsuka, and Ms. Sue Jackson.
Secretariat: International Affairs Division, Ship & Ocean Foundation
Kaiyo Senpaku Building 1-15-16 Toranomon Minato-ku, Tokyo JAPAN 105-0001