Sylff
University of Latvia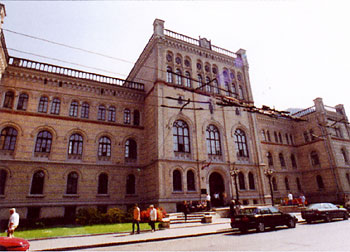 University of Latvia
Raina bulvaris 19 LV-1586 Riga Latvia
Telephone: +371-7034301
Facsimile: +371-7034302
Year Endowed:
2002
Steering Committee:
Chairperson
Professor Ivars Lacis
Rector
Contact Person
Ms. Aline Grzhibovska
Director
International Office
Email
alina@lanet.lv
Name of SYLFF Program:
Sustainable Human Resource Development: Narrowing the Knowledge Gap between National, Regional and Global Societies
SYLFF Program:
The objective of the program is to support the education of students enrolled in master's and doctoral degree programs with high potential for leadership in international matters, in public life as well as in private endeavors. Fellowships will be awarded to outstanding students majoring in social sciences and humanities fields and whose studies related to the focus of the fellowship program and that are multi-disciplinary and inter-disciplinary and relevant to the sustainable development of Latvia and its place and future in Europe and the world.
University of Latvia
Year Established:
1919
Type of Institution:
Public
Degrees:
Undergraduate and graduate degrees.
| | | | |
| --- | --- | --- | --- |
| Student Enrollment: | Men | Women | Totals |
| Full-time | 6,250 | 11,926 | 18,176 |
| Part-time | 3,260 | 8,608 | 11,868 |
| Undergraduate | 6,838 | 15,949 | 22,787 |
| Graduate | 2,177 | 5,080 | 7,257 |
| Domestic | 9,045 | 19,744 | 28,789 |
| International | 465 | 790 | 1,255 |
Academic Calendar:
September to January; February to June
Language(s) of Instruction:
Latvian
Faculties:
・Faculty of Biology
・Faculty of Chemistry
・Faculty of Economics and Management
・Faculty of Education and Psychology
・Faculty of Geographical and Earth Science
・Faculty of History and Philosophy
・Faculty of Law
・Faculty of Medicine
・Faculty of Modern Languages
・Faculty of Philology
・Faculty of Physics and Mathematics
・Faculty of Social Sciences
・Faculty of Theology
University of Chile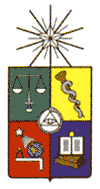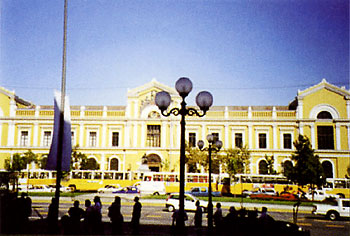 University of Chile
Diagonal Paraguay 265 Torre 15, Of. 803 Santiago Chile
Telephone: +56-2-678-2129
Facsimile: +56-2-678-2176
Year Endowed:
2002
Steering Committee:
Chairperson
Dr. Cecilia Sepulveda
Vice Rector for Academic Affairs
Contact Person
Ms. Teresa Iriarte Garcia
Director Department of International Cooperation
Email
tiriarte@uchile.cl
Name of SYLFF Program:
The Ryoichi Sasakawa Young Leaders Fellowship Fund - "Strengthening and Internationalizing Graduate Programs in Social Sciences and Humanities"
SYLFF Program:
The objectives of the program is 1) to strengthen fellowship programs for promising graduate students, in social sciences and humanities, and 2) to strengthen academic contacts with partner institutions of existing regional networks in related areas, create such networks, or participate in global networks (such as the SYLFF Program) to stimulate an internationalization process of the selected program, through fellowships that benefit students of the network members.
University of Chile
Year Established:
1842
Type of institution:
Public
Degrees:
Professional degrees and Licenciate awarded at the undergraduate level; master's and doctoral degrees as well as professional specialization at the graduate level.
| | | | |
| --- | --- | --- | --- |
| Student Enrollment: | Men | Women | Totals |
| Full-time | 12,655 | 10,896 | 23,551 |
| Part-time | N.A. | N.A. | N.A. |
| Undergraduate/Professional | 12,655 | 10,896 | 23,551 |
| Graduate | 1,777 | 1,543 | 3,320 |
| Domestic | 14,000 | 12,044 | 26,044 |
| International | 432 | 395 | 827 |
Academic Calendar:
March to July; August to December
Language(s) of Instruction:
Spanish
Faculties:
・Faculty of Agriculture
・Faculty of Architecture and Town Planning
・Faculty of Arts
・Faculty of Chemistry and Pharmacy
・Faculty of Dentistry
・Faculty of Economics and Administration
・Faculty of Forestry
・Faculty of Law
・Faculty of Medicine
・Faculty of Philosophy and Humanities
・Faculty of Physics and Mathematics
・Faculty of Sciences
・Faculty of Social Sciences
・Faculty of Veterinary Medicine and Animal Sciences
・Institute of International Studies
・Institute of Nutrition and Food Technology
・Institute of Public Affairs
・Drama Division