Japan Shipbilding Industry
Current Status
Global orders for new shipbuilding increased considerably in 2005, due to an active demand for tankers and bulk carriers to meet the growth in ocean transport supported by a favorable U.S. economy and an increase in China's import of iron ore and crude oil. Stricter international restrictions on ship safety and global environment also contributed to the increased demand in new shipbuilding. With such a boom in newbuilding demand, the global new shipbuilding volume posted another record high of 45,714,000 G/T in 2005 as it had the previous year with a year-on-year increase of 13.8%. New shipbuilding volume in Japan also remained at a high level, 16,080,000 G/T (a 35.2% share in the world market in terms of gross tonnage), second behind the Republic of Korea (ROK) with 17,552,000 G/T (a 38.4% share).
Orders of New Shipbuilding
According to "World Shipbuilding Statistics" by Lloyd's Register Fairplay, total worldwide orders for new shipbuilding in 2005 was 49,015,000 G/T, which was still relatively high despite a 3.6% decrease from the previous year. Japan's new shipbuilding orders was at 8,698,000 G/T (a 17.7% share in the world market in terms of gross tonnage), a 43.9% decrease from the previous year, and ROK received orders for 21,490,000 G/T (a 43.8% share), down 3.9% from the previous year. China accounted for 8,962,000 G/T (18.3%), up 47.8%, and Europe (CESA member countries) accounted for 6,959,000 G/T (14.2%), up 50.8%.
Worldwide newbuilding orders in the January-September period of 2006 kept at a high level with 70,829,000 G/T, or a 53.3% increase from the previous year. Japan received orders of 16,828,000 G/T (a 23.8% share in the world market in terms of gross tonnage). ROK received 28,885,000 G/T (40.8%), China received 16,659,000 G/T (23.5%) and Europe (CESA member countries) received 3,635,000 G/T (5.1%).
According to the statistics of shipbuilding permits by the Japanese Government, which covers ships of 2,500 G/T and up (excluding passenger ships), 354 ships of 12,587,000 G/T were newly ordered to the Japanese shipyards in 2005, down 34.0% in gross tonnage from the year before. The newly ordered tonnage ship type were cargo ships at 8,843,000 G/T (234 ships), down 30.7% from the previous year, and tankers at 3,745,000 G/T (120 ships), down 40.6% from the previous year.
Among cargo ships, orders for bulk carriers totaled 7,212,000 G/T (168 ships), a 24.1% decrease from the previous year; their share in the total new order tonnage on G/T basis came to 57.3% (49.9% the previous year). Order for containerships, totaling 559,000 G/T (13 ships), registered a 3.0% year-to-year rise.
For crude oil tankers, 1,902,000 G/T (23 ships) were ordered, marking a 53.7% decrease from the previous year; their share in the total ordered tonnage also decreased to 15.1% (from 21.6% the previous year). This includes six VLCCs equivalent to 955,000 G/T (down from 13 ships of 2,084,000 G/T the previous year).
Some 24 LPG carriers of 197,000 G/T were ordered in 2005 (up from four ships of 101,000 G/T from the previous year), and four LNG carriers of 468,000 G/T (four ships of 354,000 G/T in the previous year). Orders were placed for 45 chemical carriers amounting to 494,000 G/T (down from 69 ships of 820,000 G/T), and for 24 product tankers of 684,000 G/T (down from 34 ships of 919,000 G/T the previous year).
Classified by destination of the ordered vessels, ships for domestic owners totaled 156,000 G/T (accounting for 1.2% of the total ordered tonnage, up 40.5% from the year before), while ships for foreign owners decreased to 12,431,000 G/T (accounting for 98.8%, down 34.4% from the previous year).
Shipbuilding Schedule
According to the statistics of shipbuilding permits by the Japanese Government in 2005, keels were laid for 329 ships of 13,394,000 G/T (down 43.6% from the previous year), 425 ships of 16,904,000 G/T were launched (up 14.5% from the previous year), and 412 ships of 16,419,000 G/T (up 15.8% from the previous year) were completed.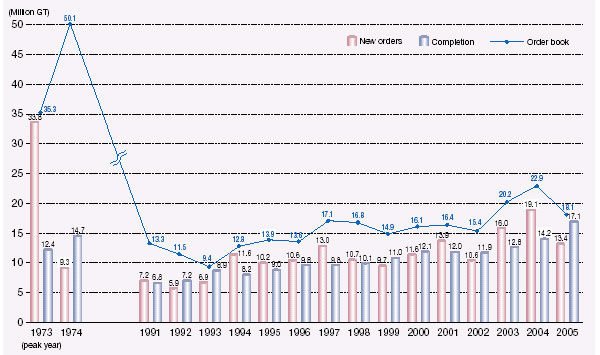 Order Backlog
According to the statistics of shipbuilding permits by the Japanese Government, the total newbuilding order backlog at Japanese shipyards as of the end of June 2006 stood at 493 ships of 18,546,000 G/T, down 18.8% from the previous year. This total includes 13 domestic ships of 215,000 G/T and 480 export ships of 18,331,000 G/T.
Important Tasks
As the worldwide shipbuilding market is booming, shipbuilders in Japan are enjoying a high level of order backlog. Meanwhile, the low level of shipbuilding prices that prevailed until about 2003, along with the recent rising cost of steel, other materials, and equipment are squeezing shipbuilders' profits. With intensified international competition along with ROK and newly emerging China with its aggressive investments in facilities, Japanese shipbuilders are required to keep their international competitive edge and to build up technological capabilities in order to have a commanding lead in shipping and shipbuilding of the world.
Previously unrealized problems are emerging, including the aging of engineers and technicians who had supported the international competitiveness of Japanese shipbuilders in the world (the age of about half of the skilled labor in the national shipbuilding sector is 50 or older), and an increased reliance on subcontractors (the proportion in major shipyards is 60% or more).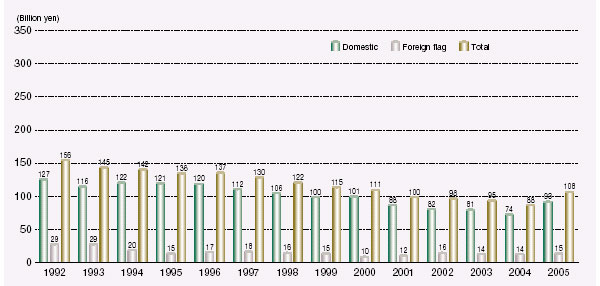 Source: Data obtained from The Shipbuilders' Association of Japan
In this rapid changing of generations, appropriate actions are necessary to cope with such problems. Unless such actions are taken, technical capability in the work field will sharply deteriorate. Succession of craftsmanship by newly graduated young staff and mid-career workers through classroom lectures and on-the-job training is urgently required to make them immediately effective in the job field. Middle rank technicians also need training to learn high-level skills from their seniors through specialized training.
Medium and small shipbuilders that mainly supply vessels for coastal or short-range ocean trades and fishing boats constantly face difficulties; their newbuilding output and sales continue to shrink due to over-tonnage and a worsening business climate in coastal shipping including lower freight and charter rates, stricter international controls and depleting fish resources.
Actions to be Taken
Increasing Japanese Shipbuilders' Competitive Edge
Shipbuilding is indispensable and a key industry for Japan in order to supply this maritime nation with the necessary ships and offshore equipment, to lead in the enhancement of global ocean transportation, and to remain in Japan under the prevailing adverse tendencies such as alienation from manufacturing industries and de-industrialization.
The Ministry of Land, Infrastructure and Transport (MLIT) pursues its objective of having the Japanese shipbuilding industry remain competitive in the world market while keeping its production based in Japan, and to establish its technical edge to keep a leadership role in world shipping and shipbuilding. The ministry is committed to addressing various problems by strategically working closely with the industry and academic community. More specifically, the ministry is encouraging research and development of new technologies, with an eye on the practical application of new technologies. In order to cope with the rapid change of generations with the supply of human technical resource in danger of loss and the need to hand down skills to the next generation, the ministry started in fiscal 2004 its support of group training programs in areas of shipbuilding through The Cooperative Association of Japan Shipbuilders.
Measures Toward Medium and Small Shipbuilders
Medium and small shipbuilders and ship machinery manufacturers constitute a key industry supplying ships to coastal shippers that assume some 40% of national logistics, while contributing to local economies and employment with their local presence. However, their financial base has become fragile in recent years due to prolonged stagnation of newbuilding demand for medium and small vessels due to a worsening business climate for coastal shipping operators, a shrinking fishing fleet, an aging labor force and delays in the development of human resources.
It is feared that if things are allowed to run their course, the local economies, in which shipbuilding and ship machinery manufacturing are concentrated, will be seriously affected, and the supply of quality vessels will be at risk, eventually failing to meet social demands such as further enhancement of maritime logistics efficiency in Japan.
In view of these circumstances, the Japanese Government is encouraging the reinforcement of the business base of medium and small enterprises with its "Laws for Promotion of Business Activities by Medium and Small Enterprises." Specifically, the government is supporting medium and small enterprises, whose management plan for business renovation and cross industrial cooperation are approved and authorized, by means of preferential measures in Laws for Medium and Small Enterprises Credit Insurance, lower interest rate loans offered by governmental financial institutions, preferential tax treatment, and the like.
Practical Use of Very Large Oceanic Floating Structures (Mega-Float)
Mega-Float technology is a state-of-the-art technology developed in Japan; it is impervious to earthquakes and is environmentally friendly. This technology was developed from 1995 to 2000 in order to promote social infrastructure establishment by means of an efficient use of ocean space. At the Mega-Float Airport Research Forum, it was concluded that a huge floating airport of 4,000-meter class would be feasible. The Assessment Board of Haneda Airport Re-Expansion Project concluded that the airport could be constructed with Mega-Float technology with an appropriate design.
A demonstration test of Mega-Float for function as an information base conducted in collaboration with the Ministry of Internal Affairs and Communications, and the Ministry of Economy, Trade and Industry, endorsed the usefulness of the Mega-Float as an inexpensive and reliable information base.
Mega-Float technology has a great deal of potential for such structures as airports, information back-up centers, port facilities including container terminals, and energy and leisure facilities. Based on these encouraging findings, the MLIT will endeavor to make the benefits of the Mega-Float technology extensively known to the public, and promote its practical application. MLIT also assesses the feasibility of Mega-Float use in ASEAN countries in the framework of the JAPAN-ASEAN Transport Collaboration.
Promotion of International Cooperation
For shipbuilders who are competing for a share in a limited single worldwide market, international cooperation is indispensable by establishing a common perception on the supplydemand situation, and fair conditions for competition.
As a leading shipbuilding nation, Japan has been actively taking initiatives to promote international cooperation both in bilateral and multilateral consultations.