Introduction of Nakashima Propeller
Noboru Asahara
Nakashima Propeller Co., Ltd.
First let me give you an overview of our company. Nakashima Propeller was founded in 1926, and will see its 77th anniversary this year. At present, we have a staff of about 350 persons, and the total sales of the Nakashima group amount to some Ä13 billion. Our headquarters and main factory are located in Okayama City, Japan. We have business offices in major cities in Japan, plus a well established post-delivery servicing network overseas.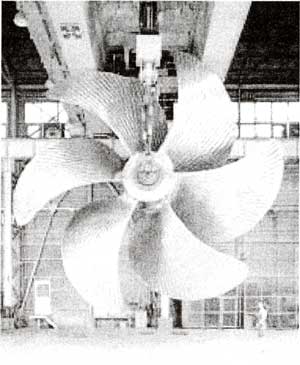 The products we handle include the following:
- Fixed pitch propellers, ranging from 20 cm to 10 m in diameters, up to 100 tons in weight, including units of all sizes from small ones for pleasure boats, fishing boats and coastal ships to very big ones for 300,000dwt VLCCs and 8,000 TEU class containerships;
- Controllable pitch propellers for all types of ships from oceangoing passenger ships to shuttle oil tankers;
- Side thrusters, both fixed pitch and controllable pitch types;
- Becker rudders;
- Joystick control systems (NATACS)
- Water jets;
- Complete sets of shafting systems, and
- Steering gears.
Thus we can supply all kinds of propulsion system as total package supplier.
In particular in the Japanese market for large fixed pitch propellers for oceangoing ships, we hold an approximately 70% share, and in the world market for this item including South Korea, Taiwan and China, our share reaches about 30%.
Next, let me tell you what we aim at and what we do about propellers. First, we want to be a design-minded company, which is our corporate ideal or objective. Second, I would like to tell about keywords regarding propellers. The third of my topics is our investment in facilities and product development.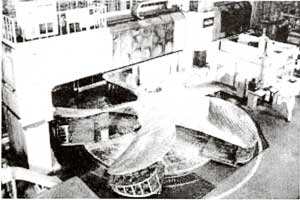 Regarding our ideal of becoming a design-minded company, we have developed as a specialized propeller manufacturer for almost 80 years. In the past, when hearing about a propeller, people tended to think first of a "casting" because of the way it was produced, and seldom to appreciate the propulsive performance a propeller carries out. So we thought we should give more emphasis on its design aspect, and decided to promote ourselves as a design-minded company. What we consider an ideal company is a company with an excellent design capability. What we mean by design capability is the ability to achieve the following.
1) Anticipating the needs of the times, and creating an innovative technology under the business policy of the company.
Concept and research
2) Flexibly applying technologies developed in other areas of specialization.
Applied technology
3) Incorporating basics and applications into the production systems of our main products.
Manufacturing
Linking these three key factors in a spiral form, we can go up every time we complete a turn. Our aim is to bring each such turn to bear on the quality of our products. Since realizing the target requires precise imaging of the product we want to create, design takes on an important role. The same may apply to the business image as well. You may often hear about R&D, which stands for research and development, but we add another D and think in terms of RD&D, that is, research, development and design.
Now, we come to the second theme, keywords regarding propellers. Regarding propellers, we have three technical keywords: efficiency, cavitation and strength. The relative weights of these three elements vary with the time. How we can successfully adapt ourselves to that variation determines the power of our corporate development. We have to anticipate the wave which would result from the variation in relative weight, and create a wave of our own. This is where the need for design-mindedness comes into the picture. Then, let me tell you which of the elements was given greater emphasis in one era or another in the environment of propellers, and how we have adapted to the shifting emphasis.
First, we saw an era of strength. In the earliest days of propellers, the overriding emphasis was on their freedom from breaking anyhow. To meet this requirement, we improved this aspect by changing the propeller material from cast iron to manganese bronze, and from manganese to nickel aluminum bronze.
Then came an era of efficiency. Since the 1970s, top priority was given to efficiency in pursuit of energy saving, and we met this requirement by creating low-speed large-diameter propellers.
Next came an era of living comfort. The interest in living comfort gave birth to pleasant propellers relatively free from vibration. This was embodied in high skew propellers.
The next keyword is cavitation. As ships became increasingly fast, interest was focused on super-cavitation propellers. For the speed range over 35 knots, surface propellers came into use.
Now, propellers meeting all these requirements are in demand, We have developed a new type PAI propeller, whose energy loss is reduced, and whose efficiency further enhanced, by having only the propeller blades eliminate the hub vortex.
Now I have come to my third theme, investment in facilities and product development by Nakashima. In plant facilities and equipment, we have actively invested since the 1970s. This has been focused on computer-aided designing and drafting. For this CAD process, we equipped ourselves with an NC blade surface machining device under five axis control for precise machining of complex three-dimensional blade surfaces. In 1981, we equipped ourselves for NC-machining the blade surfaces of propellers of all diameters from 20 cm to 10 m, and in 1995 acquired the ISO 9001 LR certificate.
Next, let me tell you the development of new type propellers. By applying the NASA's blade form theory and the finite element method of the University of Southern California in the U.S., we have developed a number of characteristic propellers. Among others, our high skew propeller made the subsequent world of propellers dramatically different from what it had been. An American manufacturer was ahead of us in developing a high skew propeller, but it was Japanese manufacturers that worked out high skew propellers which succeeded in penetrating the market as commercial products. High skew propellers involved some technical challenges that had to be met. They were sophisticated fluid analysis, sophisticated strength analysis and sophisticated three-dimensional blade surface machining techniques.
Looking at high skew propellers from the standpoint of a design-minded company, they called for:
Identifying the demand of the times (concept);
Developing elemental technologies as basics (research), and
Bringing peripheral technologies up to date (manufacturing).
Underlying all these aspects, there was the element of computerization.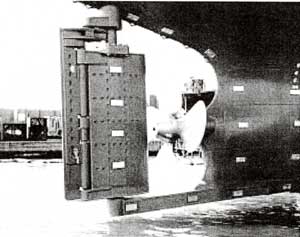 While providing products developed on our own, we are also active in tying up with other major manufacturers, both at home and abroad. We have a technical license arrangement with Becker Marine Systems of Germany for flap rudders, and have already delivered some 3,000 units of this item for 2,500 ships. For small water jets, we have a sales cooperation agreement with Castoldi of Italy, and another with Schottel of Germany for specific propulsion systems including pump jet and rudder propellers. In Japan, we are working together with Ebara Corporation, one of the foremost pump manufacturers in the world, to develop a large water jet.
Thus, we at Nakashima consider it our mission to give the optimal shape to each individual requirements of our customers. To be able to do so, we constantly receive inputs of the most up-to-date technology and information by way of various routes, and wish to keep on improving our creative design capabilities all the time.