Shaft Generating System Utilizing Power Electronic Technology
Shunji Kitajima
Taiyo Electric Co., Ltd.
Today, we are surrounded in our daily life by abundant products embodying electronic technology. This is no less true with ship machinery. And in this field of ship machinery, navigation equipment, alarm monitoring systems and various remote control systems embody many aspects of electronics utilizing semiconductors together with computerized products. However, power lines including generators and motors, which constitute the very heart of the ship, have not been so extensively served by electronic products. There are a number of conceivable reasons. For instance, for ship machinery, priority is given to reliability over convenience or handling ease. Another reason is that semiconductor components for large current capacity use do not readily lend themselves to mass production, and inevitably their unit prices are rather high. Still another reason is that, aboard ships, simpler and less expensive items, which can be somehow repaired by the crew even if they run into trouble, are more welcome than complex high tech products. But this tendency is changing gradually as the use of computerized products has dramatically spread. Now we find many items embodying power electronics. These products typically include thyristor inverter type shaft generating systems, VVVF speed control systems and electric propulsion systems.
We at Taiyo Electric were early to undertake the development of such system products, and succeeded in commercializing many of them. At the same time, we have attempted to offer these products in series and standardize them extensively, and these attempts have earned us the established reputation worldwide as a leader in the markets for these items. The reliability of the electronic parts used in these products has increased year and year, and the prices of large capacity semiconductors have decreased. These circumstances have together contributed to the recently rising demand for such system products, which are now becoming our representative main products.
In my presentation, I would like to give you an outline of the thyristor inverter type shaft generating system we have developed for use in large merchant ships and the shaft generating system known as the "cycle power system" developed for use in small merchant ships and fishing boats.
1. Thyristor Inverter Type Shaft Generating System
Since we delivered the first set of this system in 1983 to the Tsu Shipyard of NKK for installation in the 140,000 DWT ore/bulk carrier built for Mitsui O.S.K. Lines, we have delivered or been ordered to supply such products for over 230 vessels over a period of more than 20 years. Many of them are in active service and have demonstrated the reliability and utility of this system. The vessels equipped with such products include many different types and classes, ranging from 5,000 kiloliter small tankers to 7,200 TEU large containerships and VLCCs of over 260,000 DWT. Others include, for instance cruiseships, multipurpose ships, Panamax bulk carriers. Capesize bulk carriers, Aframax tankers, ferries, car carriers, limestone carriers, cable layers and cement carriers.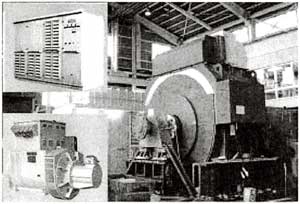 A) Basic Working Principle
The A.C. power from the shaft generator (SG), whose frequency varies with fluctuations in main engine revolutions, is converted by a thyristor converter (THI) into D.C. power, to which frequency is irrelevant, and this D.C. power is smoothed by a D.C. reactor (DCL), and then converted back by another thyristor inverter (TH2) into A.C. power of a constant frequency. This A.C. power is improved in waveform by an AC reactor (ACL), and then supplied to a bus bar by way of an air circuit breaker (ACB).
This system consists of three main constituents including the shaft generator (SG) which generates A.C. power, a frequency converter panel (FCP) equipped with a thyristor, a reactor, and various control and protective devices, and a synchronous condenser (SC) having functions to secure the power source for the commutation of the thyristors, to meet reactive power requirements of loads and, if short-circuiting of any load occurs, to let flow a sustained short-circuit current required for preferential tripping.
B) Standard Specifications
System output: 200 kw to 4,000 kw
System voltage: A.C. 450 V
Frequency: 60 Hz or 50 Hz
Phase: 3 phases, 3 wires
Power factor: 0.8
Rating: Continuous
Enclosure: Enclosed drip-proof type (IP-22 or IP-23), or totally enclosed type (IP-44)
(Note: The shaft generator, even of the IP-22 or IP-23 type, is IP-44 below the shaft line.)
Revolution range where standard use is possible: Even if the speed of propeller revolutions fluctuates in such a broad range as 60 to 110%, power of a constant frequency and a constant voltage can be supplied continuously and efficiently. This feature makes the system applicable to fixed pitch propellers. The maximum permissible load is 100% of the rated load in the revolution speed range of 80 to 110%, and the permissible load decreases in the revolution speed range of 80 to 60%, down to 70% of the rated load in the lowest operable revolution speed of 60%. We may be able to adjust the permissible load to other speed range if the client requires so and consult with us. There will be no problem in continuous parallel operation with any other diesel generator because the output is in a very smooth sine wave form.
C) Main Types
We can provide a number of different types of shaft generator differing in the way of installation. The main types include Model SIG to be fitted to the intermediate shaft, Model SHG to be directly flange-connected to the fore part of the main engine, and Model SFEK to be coupled with a step-up gear to the medium speed main engine.
Model SIG is generally suitable for ships in which a relatively ample installation space is available between the main engine and the propeller, such as containerships and car carriers or where the main bearings of the main engine have no sufficient yield strength to bear the weight of the generator rotor. Model SHG is used in ships in which the available installation space is severely limited at stern section, such as bulk carriers and tankers. Model SFEK is suitable for ferries and cruiseships driven by medium speed main engines.
D) Advantages
Ships which consume much electric power while at sea can greatly benefit from the advantages of this system. These ships include chemical carriers, product carriers and car carriers, large containerships to be loaded with many refrigerated containers, and vessels which are assigned to long navigation legs, such as VLCCs, Cape size bulkers and Aframax tankers. The general advantages of the system include the following.
- Fuel oil saving
While the ship is normally at sea, only this shaft generating system is operated and the operation of the diesel generating set is minimized. The combustion efficiency of the main engine is higher than that of the generator engines. Accordingly, the consumption of fuel oil can be reduced. When crude oil prices rise, this fuel economy becomes even greater.
- Maintenance cost saving
The reduced use of generator engines means substantial savings in the money and labor spent on parts replacement, overhauling and other maintenance work which these engines require.
- Labor saving
As the shaft generating system is basically maintenance-free, the workload on the engine room crew is dramatically reduced, and this means that much lower probability of accidents during navigation, sometimes making it possible to reduce the crew complement. Although this seems to be the greatest advantage of the shaft generating system, it is difficult to say specifically how much saving in manpower can be achieved, and accordingly the evaluation of this benefit varies from one shipowner to another.
- Sustainability of extra sea margin
Although driving the shaft generator imposes an extra power load on the main engine, it is possible to equip the engine system with an optional motor mode function, which conversely enables the shaft generator to assist the main engine as a motor to increase the running speed of the ship.
- Emission control measure
It is possible to use M.D.O. as the fuel for generator engines and H.F.O, only for the main engine to reduce the initial cost of the generator engines eventually. This would also make it possible to meet the IMO's emission control requirements.
- Redundancy of Propulsion System
If equipped with this emergency take home function as options, even if the main engine runs into trouble and cannot operate, the shaft generator can be used as the propulsion motor to bring the ship to a nearby port at low speed. As the recent wreckages of oil tankers or chemical tankers have invited serious contamination of seas and coasts, it is proposed in Europe to require some specific types of vessels to be equipped with this function.
When a tanker, bulk carrier or some other type of ship is to be equipped with a thyristor inverter type shaft generating system, while the number of diesel generators can be reduced from the usual three to two, the capacity of each should be somewhat greater than usual because one of them should always stand by, and this would mean a greater initial cost. However, as the use of this system would serve to reduce the fuel cost, and especially the maintenance cost every year. the extra initial cost could usually be paid off in two to five years' operation according to our estimate, though this could vary with the type or size of the ship. After that, the operating cost would be greatly saved every year.
2. Cycle Power System
Taiyo Electric's cycle power system is a shaft generating system specifically developed for use in smaller merchant ships for short haul ocean or coastwise routes and fishing boats having fixed pitch propellers.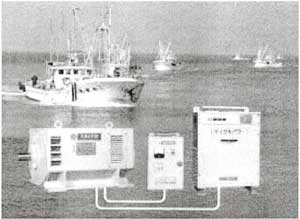 Since the first set of this system was delivered in 1982 for installation in a coasting merchant ship built at Nakatani Shipyard, the system has been revised for adaptation to different conditions of use, and has eventually been established as it is. Sets of this system product have already been delivered for installation in more than 300 merchant ships and fishing boats altogether, and have testified to the excellence and reliability of the system.
Furthermore, as this system is intended for relatively small vessels, it is simpler and less expensive than the thyristor inverter type shaft generating system.
A) System Configuration
Sine wave A.C. power fluctuating in voltage and frequency, supplied from a high speed TEW type brushless generator (GEN) driven by a main engine, whose revolutions also fluctuate, via a V pulley and a V belt, is converted into rectangular wave A.C. power of a constant voltage and a constant frequency by an automatic voltage regulator (AVR) and a constant frequency device (CFT), and the converted A.C. power is supplied to a bus bar via an air circuit breaker.
The system consists of three main components including the GEN, AVR and CFT, and they will be supplemented with an optional unit according to the type of the load used, for instance with a waveform improving filter when the load is a precision device which requires sine waveform, a limiter when it is a large motor, or a current limiter when it is a transformer. If the system is installed in an FRP-built small fishing boat or the like, noise may arise, caused by a structural factor of the hull, and a noise filter is usually used in such a case.
B) Features
This system has the following notable features.
- Even if the revolutions of the main engine fluctuate from 100% to 300% (from 40 Hz to 120 Hz in generator frequency), the system can supply power of a constant frequency and a constant voltage, and can be used in an extremely broad range.
- It is highly efficient in power conversion, inflicting little load or loss on the main engine and making possible a substantial saving in fuel consumption.
- The use of a transistor (IGBT)-based constant frequency control arrangement has resulted in compactness and light weight.
- Even if the voltage becomes too high or too low and the load, too heavy, a protective function is actuated to ensure safety.
- The use of a brushless generator, solid state type AVR and solid state type constant frequency device has made maintenance dispensable.
- The system can be installed not only in a newly built ship but also in an existing vessel at a relatively little outfitting cost.
C) Standard Specifications
System output: A.C. 225 V, 3 phases, 60 Hz, 0.8 pf, rectangular wave, continuous
Available capacities: 20 kva, 40 kva, 60 kva, 80 kva, 120 kva and 150kva
Adaptable range of revolutions: In the revolution fluctuation range of the main engine from 50 Hz to 120 Hz (generator frequency), 100% of the rated load is permissible; in the revolution speed range of 40 Hz to 50 Hz, the permissible load decreases proportionally, down to 60% of the rated load at 40 Hz, though if it is to be operated for a short period of 30 minutes or so, 100% of the rated load is permissible at no less than 37 Hz or for an even shorter period of 5 minutes or so, at 40 Hz.
D) Advantages
The main advantages are generally the same as those of the above-described thyristor inverter type shaft generation system, this system further has the following strong points.
- The extra initial cost of installation and outfitting can be recovered in only about two years, and after that the operating cost would be greatly saved every year.
- Since the cycle power system requires no piping which generator engines would need, the inspection of piping against corrosion and pores can be dispensed with.
- The crew's workload of maintenance, inspection and operation can be greatly reduced.
- In a small vessel, generator engines and auxiliary pumps, if not remote-controllable, need to be manipulated locally, but the cycle power system can dispense with all other tasks than turning on the generator breaker after only the main engine is started by remote control.
- It makes possible labor saving and system rationalization in the engine department.
E) Supplementary Remarks
As the output waveform is rectangular, instead of the sine waveform of the thyristor inverter type shaft generating system, this system cannot be run in parallel with any other diesel generator. Therefore, switching between the cycle power system and other diesel generators would be required.