Introduction of Kamome Propeller
Hiroshi Itazawa
Kamome Propeller Co., Ltd.
Company Profile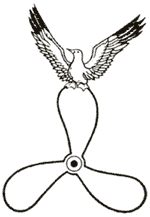 Kamome Propeller Co., Ltd., founded in 1924, has a long history of 80 years, specialized in manufacturing marine propellers, including controllable pitch propellers, fixed pitch propellers, side thrusters and shafting equipment and control software for propulsion and maneuvering systems.
The factory has all workshops, including laboratory, foundry, machine, finishing and assembling shops, laid out to execute a thorough and complete process from design to finishing. Furthermore, the company has introduced 5-axis NC blade milling machines to minimize the finishing time and to increase accuracy, so that the data of designing and machining can be unitarily produced and controlled. Now the company has completed the total control system of the data flow from designing to finishing by Kamome's own CAD/CAM system and thus propellers of the highest grade quality can be supplied.
Kamome C. P. Propellers have been obtaining a greater market year after year, and since 1961, over 4,600 units have been delivered for all kinds of ships.
Company Name
■ Kamome Propeller Co.,Ltd.
Address
■ Kamiyabe-cho 690, Totsuka-ku, Yokohama Japan
Establishment
■ Established in 1924 (Incorporated in 1943)
Capital
■ JP\115,000,000
CEO
■ Toshio Itazawa, Chairman
Hiroshi Itazawa, President
Head Office and Plant
■ Site: 69,193m
2
Premises: 19,500m
2
Bank of Account
■ Mizuho Bank, Limited,Totsuka Branch
Sumitomo Mitsui Banking Corporation, Totsuka Branch
Main Products
■ Fixed Pitch Propeller
Controllable Pitch Propeller
Side Thruster
K-7 Flap Rudder
Shafting Arrangement
Control System
Laser Alignment System
Propeller Repairing and Maintenance Service
Quality System Registration
■ ISO9001
Certificate of Classification
■ JG, NK, LR, NV, GL, CCS, CR, KR
Patent and Utility Model Rights
■ obtained for 45 domestic and international items
E-Mail info@kamome-propeller.co.jp
Products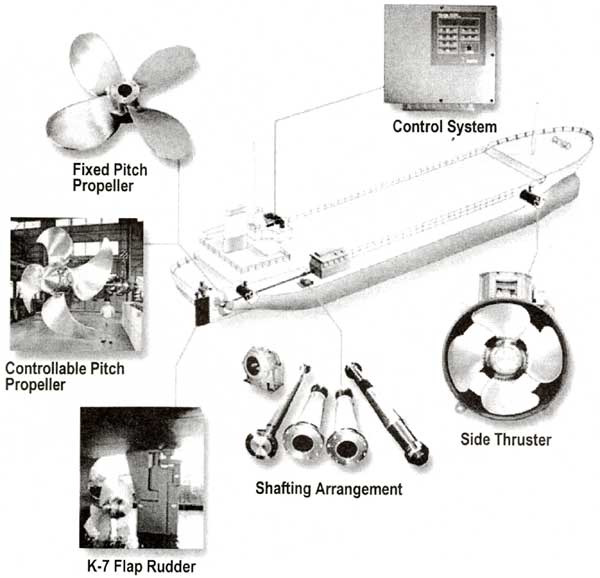 Fixed Pitch Propeller [FPP]
The Kamome Fixed Pitch Propeller has a history of 80 years along with the improvement of ships. Efficiency, economical performance, safety, and livability are the indispensable factors for modernized ships, and propeller are supporting the factors from invisible under the water.
Indeed, our propeller is the result of a collection of Kamome's techniques. Careful design is made for each ship, taking special needs into consideration based on thorough data. Our traditional casting technique and the modern equipment of the NC Blade milling machine are used to further process the products, and finally they are given finishing and grinding with care.
In addition, the blades of CPP are processed by exclusive use NC milling machine, only one of its kind in Japan.
Manufacturing Scope
■ Diameter: 5,400mm
■ Finished Weight: 13,500kg
■ Material: CAC703 (Ni-AI bronze), CAC301 (Mn bronze)