Aluminum Ship-Building Technology
Hiroshi Ishiwata
Sumidagawa Shipyard Co., Ltd.
The shipbuilding factory of Sumidagawa Shipyard lie in the center of Tokyo. It is located 8 minutes from Tokyo Station on the Keiyo Line bound for Tokyo Disneyland. It is situated right in front of the train station, and you can see the slipway from the train.
Since our founding in 1913 as a high-speed vessel builder, throughout our 90-year history, our governmental and public patrol boats, firefighting boats, customs boats, high-speed passenger ships and excursion ships of private companies have earned a reputation excellence. We have exported many governmental boats to foreign countries in South-East Asia, Middle East, and Africa.
Table 1 shows our delivery record in Thailand. In 1955, we started out with sixty-six 30-foot fire fighting boats and two 8-meter water jet fire fighting boats in 1965 and twenty-one 16.5-meter patrol boats in 1969 and after. In 1972, we made a 34-meter high speed search and rescue craft with high tensile steel hull and aluminum alloy superstructure. The ship boasted a speed of 30 KT, which was one of the fastest 30 years ago. In 1980, we delivered the 34-meter motor launch to the Customs Department. Aluminum alloy was used for the hull of ship. This was the last ship we delivered to Thailand.
Let me now talk to you about the current situation of high speed vessels in Japan, the types available, the areas they are used in, their characteristics, and so on.
YEAR
SHIP YARD
No.
KIND OF BOAT
NAME OF BOAT
OWNER
1955
・・・
30FEET TYPE FIRE BOAT
F-1〜F66
FOREST FIRE BRIGADE
1965
N40-44
8M W.JET FIRE BOAT
・・・
FOREST FIRE BRIGADE
1965
N40-45
8M W.JET FIRE BOAT
・・・
FOREST FIRE BRIGADE
1969
N44-07
16.5M TYPE PATROL BOAT
SANTIRAJ513
MARINE POLICE
1969
N44-08
16.5M TYPE PATROL BOAT
SANTIRAJ514
MARINE POLICE
1969
N44-09
16.5M TYPE PATROL BOAT
SANTIRAJ515
MARINE POLICE
1969
N44-10
16.5M TYPE PATROL BOAT
SANTIRAJ516
MARINE POLICE
1969
N44-11
16.5M TYPE PATROL BOAT
SANTIRAJ517
MARINE POLICE
1970
N44-44
16.5M TYPE PATROL BOAT
SANTIRAJ518
MARINE POLICE
1970
N44-45
16.5M TYPE PATROL BOAT
SANTIRAJ519
MARINE POLICE
1970
N44-46
16.5M TYPE PATROL BOAT
SANTIRAJ520
MARINE POLICE
1970
N44-47
16.5M TYPE PATROL BOAT
SANTIRAJ521
MARINE POLICE
1970
N44-48
16.5M TYPE PATROL BOAT
SANTIRAJ522
MARINE POLICE
1971
N46-03
16.5M TYPE PATROL BOAT
SANTIRAJ523
MARINE POLICE
1971
N46-04
16.5M TYPE PATROL BOAT
SANTIRAJ524
MARINE POLICE
1971
N46-05
16.5M TYPE PATROL BOAT
SANTIRAJ525
MARINE POLICE
1972
N46-48
16.5M TYPE PATROL BOAT
SANTIRAJ526
MARINE POLICE
1972
N46-49
16.5M TYPE PATROL BOAT
SANTIRAJ527
MARINE POLICE
1972
N47-01
34M TYPE HIGH SPEED
SEARCH&RESCUE CRAFT
JASAENYABDY
MARINE POLICE
1973
N47-56
34M TYPE HIGH SPEED
SEARCH&RESCUE CRAFT
BHROMYODHI
MARINE POLICE
1973
N48-103
16.5M TYPE PATROL BOAT
SANTIRAJ528
MARINE POLICE
1973
N48-104
16.5M TYPE PATROL BOAT
SANTIRAJ529
MARINE POLICE
1976
N50-22
16.5M TYPE PATROL BOAT
SANTIRAJ530
MARINE POLICE
1976
N50-23
16.5M TYPE PATROL BOAT
SANTIRAJ531
MARINE POLICE
1976
N50-24
16.5M TYPE PATROL BOAT
SANTIRAJ532
MARINE POLICE
1976
N50-25
16.5M TYPE PATROL BOAT
SANTIRAJ533
MARINE POLICE
1980
N54-29
34M TYPE MOTER LAUNCH
CUSTOMS 1101
CUSTOMS DEPARTMENT
1. Japan Coast Guard
In 1954, the first aluminum alloy ship in Japan was built by Mitsubishi Heavy Industries. This was a 15-meter patrol boat called "Arakase" of the Japan Coast Guard. The Agency has already had 80 aluminum ships built for them to date. They are therefore the pioneers for the aluminum alloy ship industry in Japan.
Model
(---)
Gross
tonnage
(Ton)
Total
length
(M)
Breadth
(M)
Depth
(M)
Speed
(Kt)
No. of
ships
TSURUGI-type
220
ca 50.0
ca 8.0
ca 4.0
40.0 or more
3
SHINZAN-type
180
43.0
7.5
4.0
35.0
4
BANNA-type
195
46.0
7.5
4.0
35.0
7
TAKATSUKI-type
115
35.0
6.7
3.3
35.0
2
MATSUNAMI
204
38.0
8.0
3.3
25.0
1
MURAKUMO-type
125
(former)
30.0
6.3
3.2
30.0
23
HAMAYUKI
100
32.9
6.5
3.3
30.0
1
Former
SHIKINAMI-type
67
(former)
21.0
5.3
2.7
26.0
1
AKIZUKI-type
110
(former)
26.0
6.3
3.0
22.0
9
SHIMAGIRI-type
40
23.0
5.3
2.7
29.0
3
KINUGASA
39
18.0
9.0
2.6
15.0
1
HAYATE-type
7.9
11.9
3.2
1.5
30.0
2
Total no. of ships
57
The main Japanese shipyards constructing aluminum alloy ships are Mitsubishi Heavy Industries, Mitsui Engineering and Shipbuilding, and Universal Shipbuilding. A recent trend in this industry is an increase in the size and speed of vessels as a solution against illegal ships.
The mainstream type in Japan is the mono hull deep V. The mono hull is not a comfortable ship to ride because its nose is constantly hit by waves. However, by maneuvering the ship according to sea conditions, it has the most flexibility in terms of seaworthiness, so the mono-hull semi-planing /planing types are commonly used for patrol and police boats. Boats are classified as semi-planing boat or planing boat according to the speed of the ship. This table <Table 3> shows regular boats, excluding special boats such as hydrofoil and ACV.
| | | | |
| --- | --- | --- | --- |
| Type | Name | V s/√Lw 1 | Force supporting ship during cruising |
| Low speed | Displacement type | Below 3 | Water buoyancy |
| Medium speed | Semi-gliding type | 3 to 6 | Mostly water buoyancy Dynamic lift of water accounts for small percentage |
| High speed | Gliding type | 6 to 9 | Mostly dynamic lift of water Water buoyancy accounts for small percentage |
| Ultra-high speed | Fully-gliding type | Above 9 | Dynamic lift of water |
It is simpler if ships are classified by speed length ratio Vs/ √Lwl (Vs=speed, Lwl=water line length when stationary) based on length and resistance characteristics. There is a resistance peak called "hump" near speed length ratios 3 and 6. Based on this, the following classification is possible. In the medium and low speed areas, if the displacement and main engine are the same, longer ships are faster. Also increasing the main engine horsepower allows for speed increase.
However, for high-speed and planing ships, because the ships are supported by the dynamic lift of the water, the shape of the ship base is very important. With the wrong shape, increasing the horsepower of the main engine will not increase the speed.
For medium and low speed ships, though, it is easy to obtain objective data required for the design, including the data of resistance and self-propelling tests in tank tests <Photo 1>.
The mode test of high-speed and ultra-high speed ships are designed based on the premise that the model ship and actual ship have similar conditions at the concerned speeds. Planing condition will not be the same if the model is too small. Ideally, models should be around 3 meters, at least 2.5 meters.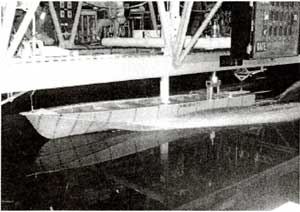 At Sumidagawa Shipyard, we use a 400-meter water tank of the National Maritime Research Institute to conduct model tests. And using information gathered from the tests of actual ships to revise the data of model tests, and put to practical use for the development of ship types.