5. PORTABLE PILOT UNIT
The PPU, in its most comprehensive form, is a carry aboard self contained unit, incorporating an automatic identification system transponder (AIS), high precision position fixing satellite receiver and sensor, docking and approaching application sensor, heading sensor, external power supply for extended operations, battery pack, portable laptop with electronic chart display (ECD) system application (electronic navigational chart, e.g. ECDIS/inland ECDIS) and other ICT application sensors to suit specific local requirements.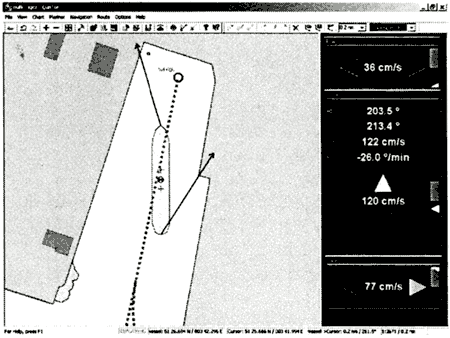 The user will have real time information with regard to:
- Position, speed, heading and other relevant data of nearby ships,
- Traffic image and traffic density expectations,
- Fairway information service by universal AIS and ICT applications,
- Meteorological and hydrological information.
Furthermore the real time kinematical mode (RTK) will guarantee the possibility of continuous monitoring of the mooring and un-mooring process by means of numerical and vector indication of speeds for several positions of the hull (see figure 8). A simple form of path-prediction, by means of extrapolation of actual velocities (linear and angular) is included for the time being. In the future we hope to use state-of-the-an mathematical ship models embedded in the PPU for path-prediction.
6. CONCLUSION
Because of the increasing complexity and size of ships, increasing complexity of traffic, a large turnover of pilots and the relatively short period of time to gain experience, it is necessary to provide pilots with tools to theoretically support professional ship handling. MPIN, in co-operation with RNLNC hopes to provide solutions by developing a custom made computer program and, in cooperation with other pilot organizations and European financial support, a portable pilot unit. With regard to the module wind loads as well as the module for geographically fixed turns, it appears to be of importance to reconsider existing approaches and instead use the results of a sound theoretical approach and recent data from scientific research.
ACKNOWLEDGEMENTS
The author would like to thank Deborah Trimpe Burger for editing the original manuscript. He is also grateful to Dick Engelbracht and Paul Wolkenfelt for their valuable contributions.
REFERENCES
[1] De Jong, "Electromechanical instruments",Dutch National Aviation Association, pp. 148,..
[2] F.M. White, "Fluid mechanics" (4
th
edition),McGraw-Hill, U.S.A., pp. 68-69, 1999
[3] J. Wieringa, P.J Rijkoort, "Wind climate of The Netherlands" (in Dutch), Staatsuitgeverij, The Netherlands, pp. 48-54 and 59, 1983
[4] W. Blendermann, "Estimation of wind loads on ships in wind with a strong gradient", paper of 14
th
OMAE, Volume I-A, Offshore technology, ASME, pp. 272-276, 1995
[5] W. Blendermann, "Wind loading of ships - collected data from wind tunnel tests in uniform flow", Bericht no. 574, Institut für Schiffbau der Universität Hamburg-Harburg, Germany, pp. 1-62, 1996
[6] OCIMF, "Prediction of wind loads and current loads on VLCCs", 2
nd
edition, published for Oil Companies International Marine Forum by Witherby & Co. Ltd., United Kingdom, pp. 3-9, 1994
[7] OCIMF, "Prediction of wind loads on large liquefied gas carriers", published for Oil Companies International Marine Forum and Society of International Gas Tanker & Terminal Operators Ltd. by Witherby & Co. Ltd., United Kingdom, pp. 8-19, 1985
[8] International commission for the reception of large ships (ICORELS), "Report of working group I", PIANC, Belgium, pp. 14-15, 1979
[9] A. Kareem, in: "Wind effects on buildings and structures" (collected papers by several authors), editors: Riera and Davenport, Balkema, The Netherlands, pp..., 1998
[10] DNV, "Classification Notes No. 30.5", Det Norske Veritas, Norway, pp.4, March 2000
[11] M. van Hilten, D.J. Engelbracht, P.H.M. Wolkenfelt, "Cross wind loads on ships and complex structures: the application in daily practice of the results of scientific research", Internal document of MPIN and RNLNC, submitted for publication, MPIN, The Netherlands, pp. 18-19, 2003
[12] M. Hancox, "Towing", Oil field seamanship vol.4, Oil field publications Ltd., pp,,l994
[13] R.M. Isherwood, "Wind resistance of merchant ships", paper issued for written discussion, The Royal Institution of Naval Architects, United Kingdom, pp. 1-9, 1972
[14] M.J. van Hilten, P.H.M. Wolkenfelt, "The rate of turn required for geographically fixed turns: a formula and fast-time simulations", Journal of Navigation, United Kingdom, pp. 146-155, 2000
[15] S.V. Gylden, "Our way", Wallenius Lines, Sweden, pp. 13-20,1991
[16] M.J. van Hilten, P. den Butter, W.C. Brak, H.A.Klaaijsen, "Handbook simulator training", MPIN, The Netherlands, pp. 4.1-4.4.2, 1998
[17] G. van Roon, "Determination of the wheel over point in channel navigation", De Nederlandse loods, Dutch Pilots' Corporation, The Netherlands, 1988.
AUTHOR'S BIOGRAPHY
Max J. van Hilten started his career at sea in 1966. He worked on several types of ship and joined several companies. His first publication (1972) was about the dynamic stability of ships carrying deck cargoes of timber. In 1974 he began as a registered pilot in the port of Rotterdam. He did this for almost 29 years. During the last 15 years of that career he also performed several other tasks for the Netherlands' pilot corporation such as simulator instructor for VLCC pilots, several consultancy tasks, responsibility for the mathematical ship models used for training Dutch pilots, writing of several readers for the training and education of pilots and practical research. Nearly all of his publications relate to the subject of maneuvering. For the last 6 years he was attached, part time, as guest lecturer to the Department of Nautical Sciences of the Royal Netherlands Naval College. Since his retirement (December 2002) he has begun as a private consultant, co-operating closely with MPIN. In this capacity he was recently involved in a study regarding the accessibility for large LNG carriers of a smaller Dutch port.