2.5 Additional Controls
Regardless whether the conventional arrangement considers one or more rudders in the slipstream of the propellers at the ship's stern there are some additional control possibilities within inland navigation. They are not used for manoeuvring purposes only but also during the voyage of the ship in order to reduce the drift angle of the vessel passing narrow river bends. Three different types of additional controls can be observed:
A) Active controls
They are commonly known as lateral thrusters but in inland shipping they also offer the possibility to produce thrust in forward, backward and even inclined direction, see Fig. 3. Some different types are introduced here omitting the discussion of their advantages and special fields of application. They may be arranged in a special housing under the bow as shown in Fig. 4, as e.g. applied to a barge or are placed at the bottom of the bow area having outlets to the side or along the bottom as shown in Fig. 5. All active controls however have in common, that their best efficiency is at zero speed and that they loose their lateral thrust with increasing speed of the vessel.
| | |
| --- | --- |
| Fig. 3 | Azimuting Pump-Jet mounted on the bottom of the hull |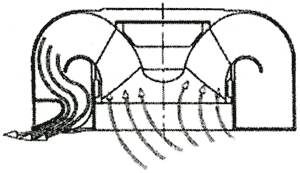 | | |
| --- | --- |
| Fig. 4 | Bow thruster mounted in a gondola at a pushed barge type EIIb |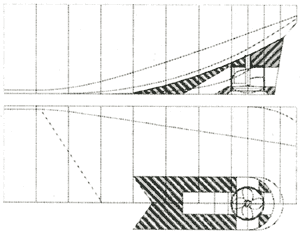 | | |
| --- | --- |
| Fig. 5 | 4-channel-thruster mounted on the bottom of the hull |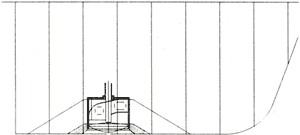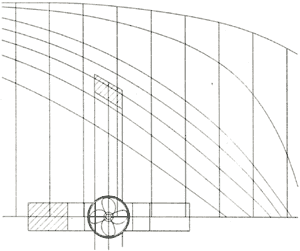 B) Passive controls
The standard bow rudder belongs to this kind of controls (Fig. 6), which can only act when the ship is running. It is simple, cheap and reliable but cannot be used for manoeuvring at low speed and mooring.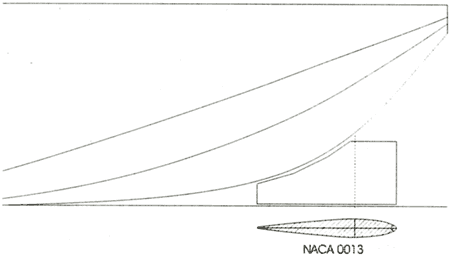 C) Unconventional solutions
A rather common type of additional control in Germany is the hydraulic coupling between the pushing cargo vessel and the barge in front of it, compare Fig. 7. By bending the whole barge train along the radius of the intended river bend it follows the recommended path with a distinct reduction of the traffic lane width in comparison to a straight motor vessel / barge combination. Reliability and functionality were approved, but the cost aspect may hinder a broad dissemination.
| | |
| --- | --- |
| Fig. 7 | Active hinge in coupling between motor vessel and barge |