MESSAGE FROM THE HONORARY CHAIR (TAIWAN)
I am very pleased to greet all PACON 2002 participants in Chiba, Japan. I would like to send best wishes from Taiwanese scientists who have been with PACON International since 1993.
The oceans, once the great dividers of human kind are now evolving into areas of common concern and as we all share, have united us.
I am pleased to see so many marine scientists, engineers, administrators, decision and policy makers from the Pacific gathering together. I hope, and am confident that your presentations and discussions will contribute greatly to the level of knowledge about the marine sector. I believe that cross-fertilization and international teamwork in the marine and other sectors, is an important factor in the advancement of our scientific and technical knowledge. This is particularly so in the case of oceans, which know no boundaries. Strong ties among researchers and close international cooperation are essential
Enjoy your stay in Japan and may this conference be both personally and professional rewarding.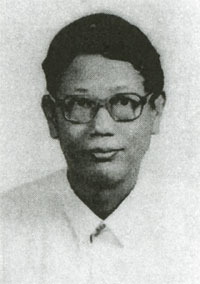 Ju-Chin Chen
National Taiwan University
Taiwan