国際協力結核予防セミナー報告書(開催地インドネシア・ベトナム)

Side effect of anti-TB drugs are minimal.
The data of relapse of 2SHRZ/6HE is based on self reporting of patients enrolled from 1989 to 1992.
The average relapse rate is about 5.4% within 24 months after discharge.It is necessary continue monitoring this rate in several years.
3.2 Trearment results under field conditions in 6,819 smear positive cases retreated by 2SHRZE/1HRZE/5H3R2E2 from 1989 to 1994.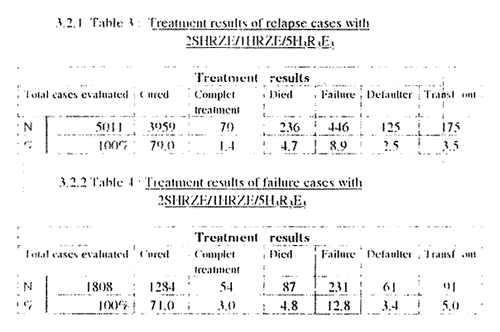 2.4 The TB patients enrolled on the retreatment with SCC regimen 2SHRZE/1HRZE/ 5H3R3E3 must befully supervised during both phases especially during the intensive phase are usually hospitalised.
2.5 Monitoring of treatment results is mainly carried out by district smear control at intervals.
2.6 All forms and registers usued in NTP were provided by IUATLD (from 1989-1990).
2.7 The monthly supervision at commune level was done by District TB staff,and at district level by Provincial TB staff.
The national or regional supervision team visited the Prov. TB center with 2 District TB section for every province. 2 health posts for every district,and 2 patient's house for every commune. 4 times every year.
2.8 Evaluation of treatment results was mainly based on quarterly and yearly cohort analysis:
III. RESULTS OF SCC IN VIETNAM
3.1 Treatment result under field conditions in 49,659 new smear - positive patients enrolled on SCC with regimen 2SHRZ/6HE from 1989 to 1994 SCC was begun to apply in 1989. Treatment results at the first 49,659 patients enrolled on 2SHRZ/6HE are presented in table 1.




2,882位
(31,714成果物中)





| | |
| --- | --- |
| | 2,203 |

集計期間:成果物公開〜現在
更新日: 2020年2月15日